Why are the Klamath Dams being removed?
The four hydroelectric dams on the Klamath River block more than 400 miles of historic fish habitat and spawning grounds. Klamath River salmon populations have fallen precipitously in recent years, with Coho salmon listed as threatened under federal and California law. Spring Chinook salmon, once the Klamath Basin's dominant run, have decreased by about 98% and are almost at an extinction level. Fall Chinook, even augmented by hatchery production, have been so meager in the past few years that the Yurok Tribe suspended fishing for the first time in the Tribe's recorded history. In 2017, the Tribe had to purchase fish at a grocery store to conduct their annual salmon festival.
The dams alter the natural riverine temperature, resulting in unnaturally warm water when adult fish return to spawn in late September and October. This causes greater adult stress and mortality. During the late spring, the dams cause reduced water temperatures which impede juvenile fish growth rates, leading to reduced survivability. Temperature is important to fish, and the dams affect both adult fertility and juvenile survivability.   
In addition, the 50-year federal license that allowed PacifiCorp to operate four Klamath River dams expired in 2006. PacifiCorp entered into the Klamath Hydroelectric Settlement Agreement (KHSA) alongside federal, state, and local governments, two Tribal nations, and nine conservation and fishing groups. PacifiCorp concluded that surrendering the operating license and discontinuing operation of the dams, coupled with other terms of the KHSA, was in the best interests of their customers.
The Settlement Agreement, as amended in April 2016, requires PacifiCorp and the KRRC to seek approval from the Federal Energy Regulatory Commission (FERC) to transfer ownership of the Lower Klamath Project (the four dams and related facilities) to KRRC and decommission all four dams on the Klamath River. Once approved by FERC, the KHSA will lead to the largest dam removal and river restoration efforts in the nation.
What is the Klamath Hydroelectric Settlement Agreement?
The Klamath Hydroelectric Settlement Agreement (KHSA) was amended in April 2016 and requires PacifiCorp and the KRRC to seek approval from the Federal Energy Regulatory Commission (FERC) to transfer ownership to KRRC and decommission four dams on the Klamath River. If approved, the KHSA will lead to one of the largest river restoration efforts in the nation, beginning with decommissioning of four dams in 2024. This agreement was signed by federal, state, and local governments, dam owner PacifiCorp, two Tribal nations, and nine conservation and fishing groups.
The signatories to the amended Agreement are:
Department of the Interior
Department of Commerce National Marine Fisheries Service
PacifiCorp
California Governor
Oregon Governor
California Department of Fish and Wildlife
California Natural Resources Agency
Oregon Department of Environmental Quality
Oregon Department of Fish and Wildlife
Oregon Water Resources Department
Klamath River Renewal Corporation
Yurok Tribe
Karuk Tribe
Humboldt County, California
Upper Klamath Water Users Association
American Rivers
California Trout
Institute for Fisheries Resources
Northern California Council, Federation of Fly Fishers
Pacific Coast Federation of Fisherman's Association
Salmon River Restoration Council
Trout Unlimited
Sustainable Northwest
How was KRRC chosen to oversee dam removal and restoration efforts?
The Klamath River Renewal Corporation (KRRC) is a non-profit corporation formed by the Klamath Hydroelectric Settlement Agreement (KHSA) and is the entity formally tasked with removing the four lower Klamath River dams. Although the dams are currently owned by PacifiCorp, an investor-owned utility, under terms of a July 16, 2020 Order from the Federal Energy Regulatory Commission (FERC), KRRC may become co-licensee of the Lower Klamath Hydroelectric Project for the specific purpose of removing the dams and restoring the river to its free-flowing condition. The States of California and Oregon have agreed to seek co-licensee status in order to satisfy terms outlined by FERC. In keeping with the terms of the KHSA, PacifiCorp would not remain on the license for dam removal or play a role in dam removal beyond helping to fund the effort. A Memorandum of Agreement (MOA) was announced on November 17, 2020 by Berkshire Hathaway-owned PacifiCorp, the States of California and Oregon, the Karuk and Yurok Tribes, and the KRRC. The MOA describes how the parties will proceed with implementation of the Amended Klamath Hydroelectric Settlement Agreement (KHSA) and, ultimately, dam removal. The MOA stipulates that KRRC will remain the dam removal entity.
Why was a new organization created to oversee this process?
PacifiCorp and the other KHSA parties determined that creating a third party to manage dam decommissioning and river restoration was an effective model for protecting customers and ensuring river restoration.
What is the Klamath River Renewal Corporation's governance structure?
The KRRC's Board of Directors is composed of up to the following 15 members:
Five members appointed by the Governor of California
Four members appointed by the Governor of Oregon
One member appointed from each Tribe that has signed the agreement (Karuk Tribe and Yurok Tribe)
Two members appointed collectively by conservation groups (American Rivers, California Trout, Klamath Riverkeeper, Northern California Council – Federation of Fly Fishers, Salmon River Restoration Council, Sustainable Northwest, and Trout Unlimited)
One member appointed by both the Institute for Fisheries Resources and the Pacific Coast Federation of Fishermen's Associations.
The Board has hired a Technical Representative, an Owners Representative and legal and technical consultants.
Why is the KRRC project being called the largest dam removal in US history?
The roughly simultaneous removal of the four dams that constitute the Lower Klamath Project, with a combined height of 411ft, makes it the largest dam removal project in America's history.
Can I make a tax deductible gift to help restore the Klamath River?
Yes. We have been surprised and gratified by the people who have asked how they can personally support removing the Klamath dams and restoring the river. We are pleased to have friends partner with us to accomplish our mission to renew this vital waterway!
Because KRRC is a 501(c)(3) organization, your contribution is eligible for an income-tax charitable deduction. Click here to make a donation
When will dam removal take place?
Dam removal activities will begin in 2023 and be completed in 2024, with the return of the river to a free-flowing condition. We anticipate personnel and equipment will be deployed in early 2023 to commence pre-removal construction, including road and bridge improvements.
Copco No. 2 will be removed first (2023) due to its small size. Reservoir drawdown and the beginning of deconstruction of the remaining three dams would occur essentially at the same time in early 2024. Iron Gate Dam will be the last one to be fully removed due to the size of the dam and amount of material that must be removed. Dam removal will be complete by the end of 2024 and restoration activities will commence immediately. Monitoring and maintenance of the restoration of the project footprint will continue for several years.
When will reservoir drawdown occur and how long will drawdown take?
The specific reservoir drawdown schedule is dependent on the snowpack and watershed hydrology during that specific year and will be informed by our detailed analysis. In all cases, there will be two drawdown periods. The initial drawdown will occur from January to March of the drawdown year (anticipated in 2024) and then a second drawdown will occur following the spring freshet (spring thaw), which will partly or completely refill the reservoirs due to runoff resulting from snow and ice melt. The reservoir drawdowns will be carefully controlled.
Once we reach the final drawdown elevations (where the historic river channel is exposed), which we expect to happen between May – July depending on the dam on the hydrologic year, we will remove JC Boyle, Copco 1 and Iron Gate Dams.
What will recreation access look like during dam removal? What about after?
KRRC anticipates dam removal activities will be begin in 2023 and be completed in 2024, with the return of the river to a free-flowing condition. Beginning in April 2023, deconstruction activities will begin on roads, bridges, and project dam features to prepare for the dam removal. These actions may temporarily delay vehicular access to existing day use and camping areas. The whitewater boating put-in below J.C. Boyle Powerhouse (Spring Island Boater Access) and the take-out at Fishing Access Site 1 may experience occasional vehicular access delays related to road improvement and/or deconstruction equipment mobilization.
From April to July, access improvements will create potentially longer delays for outfitters reaching the Spring Island Boater Access whitewater boating put in. KRRC will communicate any scheduled changes to flow releases from J.C. Boyle Reservoir related to pre-drawdown deconstruction.
Once dam removal deconstruction commences in January of the drawdown year, KRRC will close the reservoirs and reservoir recreation sites, and access will not be permitted for public safety. This will restrict whitewater boating, camping and day use within the affected areas and river reaches between J.C. Boyle Powerhouse and approximately Iron Gate Dam at Lakeview Bridge. As noted above, whitewater boater access will not be allowed in the year of drawdown. KRRC will place signage at Topsy Grade Road and J.C. Boyle Powerhouse Road notifying users of the conditions, as well as throughout the project area.
Following dam removal, outdoor recreation opportunities along the Klamath River will be transformed. Existing reservoir-based recreation opportunities will be replaced by entirely new and invaluable opportunities for high quality, outdoor recreation centered around a restored free-flowing Klamath River.
In order for the public to be able to access and experience the renewed river, the States of California and Oregon (the principal successor landowners), in consultation with recreation stakeholders, Tribes, and local residents, are advancing recreation planning efforts to improved or upgraded existing public access facilities and to construct new facilities to support the transformed recreation opportunities. Additional information regarding recreation access sites can be found on KRRC's website here.
What happens after the dams are removed?
The vegetation restoration of the reservoir bottoms will begin as soon as drawdown is complete (anticipated spring or early summer of 2024). KRRC's revegetation plan includes seeding reservoir footprints with native grass seed. Select areas will also be planted with trees and shrubs, with species tailored to the location within the reservoir and proximity to streams and expected wetlands. In the vicinity of the homes around Copco Lake, the exposed reservoir sediments will be seeded with native seed, planted with bare-root seedlings, and the riparian areas immediately adjacent to the river and creek channels will receive an increased density of trees where appropriate to provide sediment cover and habitat restoration. All sites will be monitored for several years to ensure revegetation success, oversee the control of invasive species, and take other necessary actions to restore the landscape.
What will happen to the land where the dams once stood after dam removal is complete?
After dam removal and restoration is complete, KRRC will transfer the project lands to the States of California and Oregon, or a designee by the States, as required by the KHSA.
Who will complete the restoration work?
KRRC's lead restoration contractor is Resource Environmental Solutions (RES). Over the last decade, RES has helped clients successfully permit more than 2,800 projects, creating rich, high-functioning ecosystems as part of each one. In total, RES has restored more than 294 miles of stream, 58,024 acres of wetlands, and 9,100 acres of endangered species habitats throughout the United States. For more information about RES, please refer to the RES website.
How will KRRC mitigate loss of the reservoirs as a firefighting resource?
KRRC coordinated extensively with California and Oregon fire protection agencies in creating a Fire Management Plan (fire plan). KRRC set out to meet two key objectives in developing the fire plan:
Ensure that dam removal will not cause a net reduction in firefighting resources
Ensure that both during and after demolition of the dams, the fire ignition risk that currently exists in the region will not increase
Both the Oregon and California fire agencies have endorsed the plan, which includes the following:
Installation of a "Monitored Detection System." This state-of-the-art camera technology will improve early fire detection capabilities in the Basin by using high-definition imagery and video transmitted from cameras strategically placed at fire lookouts. The system is monitored by fire personnel at a detection center. The fire monitoring detection systems, which have been proven to increase detection and reduce response times, are already being installed and used to aid in fire response. This type of early-alert system can considerably improve local firefighter response times as compared to current resources.
Installation of five permanent dry hydrants. Dry hydrants provide a simple and reliable water supply for ground-based firefighting crews to fill fire engines and water tenders and will be located at or near road crossings of large tributaries to provide additional water sources. The five dry hydrants in the Fire Plan will be designed to provide a minimum flow of 1,000 gallons per minute.
Staging of self-supporting water tanks. These tanks will supplement aerial and ground-based water supplies. They hold up to 5,000 gallons of water and could be stored, erected, and filled rapidly for initial attack activities.
Identification of aerial river access points (ARAP's). These ARAP's will be identified in the parts of the river that are currently reservoirs (two per reservoir) that meet specific suitability performance criteria to be used by Type 1 helicopters with snorkels. An analysis of the currently free-flowing sections of the river located in the dam removal project area yielded dozens of locations that meet the necessary width and depth criteria, and channel dimensions in the reservoir footprints are expected to be comparable. Although the reservoirs will no longer be available to firefighting aircraft, the river itself will provide multiple opportunities for firefighting helicopters.
The above points are highlights but by no means an exhaustive account of the multifaceted plan. The entire fire plan can be viewed here.
Will the KRRC project create any local jobs?
Yes. KRRC's direct activities in the Klamath Basin, including dam deconstruction and restoration work, will create a few hundred jobs in the Klamath Basin. KRRC and its contractors have worked with local chambers, economic development agencies and tribes to ensure local companies are aware of opportunities and have ample time to prepare and train workers. Indirectly, KRRC's expenditures in the Basin are expected to stimulate creation of more than a thousand jobs in support industries such as food service and other support industries. Both temporary and long term jobs will be created. Long term, healthy salmon runs would add an estimated 450 jobs in the commercial and recreational fishing industries in Oregon and California.
I'm interested in becoming a subcontractor for the project. How do I get more information?
The best way to stay updated on any construction subcontracting opportunities with KRRC is by getting in touch with the Design Build Prime Contractor, Kiewit. Please refer to Kiewit's project website at www.kiewit.com/klamath to view anticipated subcontracting opportunities and an anticipated schedule of subcontractor procurement. Note, subcontract bid packages were advertised in December 2019, and many large subcontract packages were awarded following that round of solicitations. Kiewit will still be looking to award several smaller bid packages as we approach construction. Outstanding scopes of work that will be potentially awarded can be viewed on Kiewit's project website. If you are interested in receiving bid solicitations for these remaining opportunities, please sign-up on their subcontractor bid solicitation system to communicate directly with their team.
If you are looking to be hired directly by Kiewit in one of the onsite construction trades, you will need to first join a union. Since Kiewit is a union contractor, you will need to register with local trade unions to perform work covered by applicable union agreements. Joining a union is easy. If you are interested, simply call, email, or walk into the local union hall representing your current or desired trade. Once you have joined, please complete Kiewit's industry survey so that they can understand your desired position and abilities.
To stay updated on any opportunities with KRRC's lead restoration contractor, Resource Environmental Solutions (RES), please refer to RES' project website at res.us/home/restoring-at-scale/klamath-river-restoration. For any questions regarding restoration opportunities, please contact RES at klamathinfo@res.us.
For more information, please visit the Job Opportunities page on KRRC's website here.
Does the KRRC project pay prevailing wage?
Yes, the KRRC project pays prevailing wage.
Will dam removal affect water supplies to farmers and ranchers?
No. Not a single farm, ranch or municipality diverts water from the reservoirs behind the hydroelectric dams that are slated for removal.
The water the Bureau of Reclamation manages for agriculture in the Basin (often called "project water") comes from the Upper Klamath Lake in Oregon, which is above the KRRC project site. That water, which supplies the Klamath Irrigation Project, is stored by the Link and Keno dams which are not a part of KRRC's project. We have no impact on the Link and Keno dams in Oregon. We do not diminish the agricultural water supply in the Upper Basin.
To the contrary, we have heard from farm interests who believe that improving fish runs is beneficial to Basin agriculture. Quoting Brad Kirby, General Manager of the Tulelake Irrigation District (which uses Klamath Project water): "We recognize the importance of restoring healthy fish populations to the Klamath watershed, which is the reason that we are heavily invested in it and have made recovery of species one of our primary goals."
Will dam removal affect the water supply for the City of Yreka?
KRRC will leave behind a legacy of improved infrastructure after we complete our project, another benefit to Basin communities. We will replace the City of Yreka waterline in the footprint of Iron Gate Reservoir with substantially upgraded infrastructure worth millions of dollars to the City. This will happen well in advance of dam removal.
KRRC will also leave Siskiyou County with improved roads and other infrastructure. We need these improvements to accommodate heavy equipment for our project, but these improvements will remain for Siskiyou County residents to enjoy for years to come. Local infrastructure will be left at least as good as we found it, and in many cases far better. Furthermore, the City of Yreka maintains a senior appropriative water right through the California State Water Resources Control Board on Fall Creek, a tributary to the Klamath River. Dam removal will not affect the City's right on Fall Creek.
Will dam removal result in rampant seasonal flooding downstream? For example, at Happy Camp right along the river?
No. The four Klamath dams are not multi-purpose facilities like Shasta and Oroville Dams, which indeed operate for multiple benefits, including flood control. The Klamath dams are single-purpose dams created to produce electricity and are not operated for flood control and provide extremely minor flood control benefits. After dam removal, state-of-the-art modeling indicates that flood elevations may be subject to an increase of 6 to 18 inches in a 100-year flood event, and only in the first 18 miles below the site of Iron Gate Dam. This nominal change will affect a few dozen homes below Iron Gate Dam. There will be no discernible impact at Happy Camp, which is far outside the impacted 18-mile stretch. KRRC has proposed financial compensation to property owners to mitigate these impacts.
Measurements have been taken of water volumes in the river during a 100-year flood event. Those measurements show that just 5% of the water that eventually reaches the mouth of the river begins below the lowest Klamath Dam (Iron Gate Dam). The vast majority of the water that feeds the Klamath River comes from other rivers, such as the Scott, Shasta and Trinity. And, of course, the watershed itself sends water into the river. So even if there was an attempt to control downstream flooding by operating the hydroelectric dams for flood control purposes, the effort would not be successful.
Local Landowner Information
I am a resident in the area. Will I get information in advance about something like road closures?
Yes, KRRC will provide local residents and stakeholders with project updates and advisories during project implementation, including advanced notice about traffic pattern changes and other relevant updates.
KRRC will also hold information sessions to share project updates and answer questions from local residents and the media. We look forward to providing further updates on timing and format of any meetings when we have additional information on these topics.
Will KRRC mitigate potential effects to private property?
A critical component of the Project is fair treatment for individuals and entities whose properties could be physically impacted by removal of the four hydroelectric dams. KRRC is seeking approval to establish a "Local Impact Mitigation Fund" (Fund) in which impacted parties can participate.
The Fund approach, which would be administered by an independent third party has been used with complex projects elsewhere, resolving damage claims in a fair, transparent, and timely manner. Indeed, some of the property owners on the river expressly asked if KRRC could consider compensation equal to the cost of the improvements, thus allowing the property owner to select his or her own contractor or simply decide to live with the nominally increased flood risk and bank the funds for other purposes.
We propose to compensate for the lesser of (1) the cost to build those improvements and (2) diminution in property value. This is subject to final approval from our funders, finalization of the Fund and other conditions, including release of potential claims related to flood protection for the settling party.
KRRC would only provide financial mitigation for the increased risk posed to property by a 100-year flood event. This level of protection is consistent with flood insurance provided through the Federal Emergency Management Agency's National Flood Insurance Program. The dams do not provide protection against large flood events that affect riparian properties below Iron Gate.
KRRC holds public funds and may spend them only in compliance with applicable law. KRRC will comply with all mitigation requirements in regulatory permits. Beyond permit compliance, KRRC plans to mitigate for demonstrated private property damages through the Fund. Examples of compensable damages include the demonstrated loss of well production or increase in flood risk, or slope instability physically caused by the Project.
KRRC is not authorized to use its public funds to compensate for claims that do not involve property damages, such as temporary loss of enjoyment of the river, reductions in property value, or loss of business revenue.
KRRC understands possible confusion over this issue because the Klamath Basin Restoration Agreement (2010), known as the KBRA, included a line item to provide compensation for such loss of property value. However, Congress did not authorize the KBRA and that agreement is not in effect.
You may wish to review KRRC's Risk Management Plan, which was part of our July 29, 2019 submission to FERC. The Local Impact Mitigation Fund is discussed on page 24 of this plan.
What will be the effect on wells adjacent to the reservoirs and river?
Klamath River water levels are not anticipated to appreciably change with dam decommissioning, and domestic groundwater wells adjacent to the current Klamath River or its tributaries are not anticipated to be affected by a change in reservoir water level. To the extent that wells that are adjacent to the reservoir are demonstrably hydrologically connected and are therefore impacted by dam removal, KRRC is proposing financial mitigation for that kind of impact (see the FAQ titled "I'm a local landowner and have questions about potential impacts from the project on my groundwater well. How do I get more information?").
Water releases to the river are controlled upstream at Link River Dam by the Bureau of Reclamation (BOR). BOR will continue to control river flow, which translates to river water level or "stage," after dam removal. The river will not run dry, nor do we expect BOR to dramatically change current flow conditions that are in fact specified in BOR's Klamath [Irrigation] Project Biological Opinion for operations.
KRRC is responding to community concerns by employing sentinel (monitoring) wells at the reservoirs. Using a sentinel well approach, KRRC will monitor wells distributed around Iron Gate and Copco reservoirs to obtain a representative sample of groundwater levels and conditions. Wells that are properly installed and not connected to surface water will not be impacted by the sediment release, which will move rapidly though the river. Sediments will not work their way through the sand, gravel and other material that acts as a barrier between the river and the well casing. Nevertheless, wells that have a demonstrated detrimental impact will be eligible for mitigation from the Klamath Mitigation Fund (Fund). If wells require protection during drawdown (for instance, if the drawdown flows would impact a well head), KRRC will fund its protection in accordance with the provisions of the Fund.
What kinds of damages could be compensated if my property experiences an impact from dam removal?
KRRC voluntarily proposed and will establish the Klamath Mitigation Fund (Fund) to address demonstrated physical property damages caused by our project, above and beyond compliance with regulatory requirements for protection of the public interest. The Fund will support settlements with willing property owners to address demonstrated physical damages caused by the project, including reduced well production, instability around the reservoir rims, and flooding risk for dwellings downstream from the dams.
Prior to running the Fund, we will select independent Fund Administrators. Once selected, the Fund Administrators will conduct outreach and enter into direct discussions with property owners regarding compensation for demonstrated physical property damages. Note, the Fund Administrators will determine outreach meeting format and logistics. The funding criteria (including amounts) will be consistent with applicable law, including the legal requirements for KRRC's public funding. The Fund Administrators will oversee the fund and make compensation decisions independent of KRRC. Each individual property owner will elect whether to enter into an agreement.
Property owners should note KRRC is not authorized to spend public funds to compensate property owners for a real or perceived loss in property value that does not involve physical damages (examples include temporary loss of enjoyment of the river, reductions in property value, or loss of business revenue).
I'm a local landowner and have questions about potential impacts from the project. How do I get more information?
KRRC will hold information sessions to share project updates and answer questions from local residents regarding potential impacts from the project. We expect to start these meetings in mid-2023 and we look forward to providing further updates on timing and format of any public meetings as we have additional information.
KRRC is committed to a transparent and collaborative process to address demonstrated physical damages on private property. KRRC will comply with all regulatory requirements, including permit conditions related to impacts on the environment.
I'm a local landowner and have questions about potential impacts from the project on my groundwater well. How do I get more information?
Based on work by KRRC and its consultants, many area groundwater wells are not hydrologically connected to the existing reservoirs and, as a result, will not be impacted by dam removal. However, some wells in the immediate vicinity of the reservoirs may be affected by reservoir drawdown, and KRRC will work with landowners to mitigate impacts from wells that have a demonstrated impact due to dam removal. Residents interested in learning more about the groundwater well monitoring program can find additional information in KRRC's April 2022 letter to local landowners. Residents interested in participating in the program have been asked to complete and return this questionnaire. Upon receipt of the questionnaire, KRRC will contact residents to schedule an initial site visit so our groundwater professionals can evaluate the well for participation in the well monitoring program and to obtain critical well information.
I'm a local landowner and have questions about slope stability monitoring around the reservoirs. How do I get more information?
KRRC will begin monitoring slope stability around the reservoirs during reservoir drawdown prior to dam removal. Based on review of available information, several properties around the reservoirs have been identified for potential slope stability monitoring; KRRC will reach out to landowners prior to drawdown if a risk of slope instability has been identified for their property.
When will KRRC own the project?
As the dam removal entity for the project, KRRC took ownership of the project following acceptance of the Federal Energy Regulatory Commission's (FERC) June 2021 License Transfer Order. As part of the terms of the November 2020 Memorandum of Agreement, the States of Oregon and California are serving as co-licensees with KRRC.
PacifiCorp no longer owns the dams; however, based on an agreement between PacifiCorp and KRRC, will continue to operate the project until the decommissioning stage.
What about the local referendums opposing dam removal?
Measure G was a nonbinding advisory measure on the ballot in Siskiyou County in November 2010. By nearly 79%, Siskiyou County voters expressed a preference to retain the dams. However, this expression of local sentiment did not carry any legal weight. Hence the term "advisory." Klamath County had a similar measure on the ballot that also passed overwhelmingly. Both measures were essentially opinion polls. The vote that carried legal weight took place in the California and Oregon legislatures. Additionally, matters surrounding a hydroelectric facility license are largely governed by the Federal Energy Regulatory Commission (FERC). Although FERC does consider views and interest of local parties, a local advisory measure carries no legal weight in a FERC proceeding. A local vote of this nature cannot control a private property decision by PacifiCorp, the owner of the dams. PacifiCorp exercised a private property right and a business decision to enter into the KHSA, transfer the Lower Klamath Project to KRRC, and allow KRRC to remove the facilities.
Didn't Congress refuse to enact authorizing legislation for this project in 2015?
Congress was asked to pass special legislation that would have enacted a broad stakeholder agreement that included waiving the Federal Energy Regulatory Commission (FERC) authority over dam removal. It was only after Congress declined to enact this locally driven initiative (the Klamath Basin Restoration Agreement (KBRA) and KHSA package) that dam removal defaulted back to the standard FERC process.
Does KRRC conduct public hearings in accordance with state law?
Because KRRC is not a public agency, we do not conduct official public hearings. KRRC has voluntarily conducted numerous public outreach meetings that covered a variety of topics including flooding, recreation planning, economic opportunities, and general information about the Project. Meeting locations have included: Yreka, Klamath Falls, the R-Ranch, Mount Shasta, Medford, Ashland, Redding, and multiple locations between Klamath Falls and the mouth of the river. Additionally, KRRC has addressed public officials and/or city councils in Yreka, Klamath Falls, and other areas. KRRC has attended various official meetings conducted by the California State Water Resources Control Board and the Oregon Department of Environmental Quality, Public Utility Commissions in Oregon and California, among others.
Does the Klamath River Compact Commission have jurisdiction over the KRRC project?
No. The Federal Energy Regulatory Commission (FERC) will decide whether the proposed dam removal is in the public interest. The Compact Commission has certain authorities under the 1957 Klamath River Compact. It must approve the siting of a facility to store and convey water from one state to the other. It must approve any related effort by one state to acquire land in the other. And it may resolve water quality disputes between the states. But it does not have authority to regulate hydropower projects.
The 1935 Federal Power Act established a comprehensive program for hydropower development in our nation. FERC administers that program, regulating more than 1,000 hydropower projects to advance the public interest in power, flood control, recreation, fish and wildlife, and other beneficial uses. FERC is not subject to the consent of interstate compact commissions (and there are more than 200 of them across the nation) to make these licensing decisions. The U.S. Supreme Court has repeatedly decided that Congress meant exactly what it said in authorizing one federal agency, FERC, to assure that hydropower advances the public interest in our nation's rivers.
FERC will consider all arguments, and facts, as it moves forward to decide whether the proposed dam removal advances the public interest.
Will dam removal revive the river's threatened salmon and other fish species?
Yes. This issue has been exhaustively studied by state and federal agencies, tribes, the commercial fishing industry, and conservation groups. An Environmental Impact Report (EIR) released by the California State Water Resources Control Board found that removal of the Lower Klamath Project dams would increase fish habitat availability, restore a more natural seasonal water temperature variation, protect water quality, and reduce the likelihood of fish disease, all of which would have significant long-term benefits for fall and spring-run Chinook, Coho, and steelhead. The EIR also concludes that the project will "…advance the long-term restoration of natural fish populations in the Klamath Basin, including having a significant beneficial effect on commercial fisheries and an associated significant beneficial economic impact on the coastal commercial fishing industry."
Scientists expect native fish will quickly reclaim their former territory on the Klamath, just as fish have following removal of dams on the Elwha River in Washington and the Penobscot River in Maine. Tribes in the upper reaches of the river are poised to see salmon return to the headwaters for the first time in more than a century. Healthy salmon runs will add an estimated 450 jobs in the commercial and recreational fishing industries in Oregon and California.
Have salmon historically reached areas above the dams?
The great explorer of the west, John C. Fremont, found salmon in what is currently Klamath Falls all the way back in 1846. Salmon made it all the way up to the Sprague, Williamson and Wood rivers in Oregon. Their nature is to swim upstream and find spawning habitat. They are expected to explore and repopulate the Klamath and the tributaries that dam removal will open.
There is also good evidence of anadromous fish returns after dam removal in other river systems. In the first season after removal of the Elwha and Glines Canyon Dams in Washington, more than 4,000 Chinook spawners were counted above the former site of the Elwha Dam, which was the highest count in 30 years. One year after removal of the Condit dam on the White Salmon River, researchers found places where Chinook salmon and steelhead laid their eggs upstream and downstream of the former dam site. And for the first time in more than 100 years, Pacific Lamprey have been found upstream of the former Condit dam site.
Wasn't there an impassable natural reef on the Klamath River that halted salmon migration into Oregon?
Indeed there was, but it formed a very long time ago and was long-gone by the time the Copco No. 1 Dam was built in 1918. A ground fissure, associated with the formation of numerous shield volcanos throughout the southern part of the High Cascades in Oregon and California generated a lava flow near the Klamath River. The lava flow formed a hardened lava "reef"  about 140,000 years ago and blocked the Klamath River at Ward's Canyon, the present location of the Copco No. 1 Dam. The lava flows formed the ancestral lake valley which is now occupied by Copco Lake. Judging by the thickness of diatomite deposits exposed around Copco Lake, the ancestral lake was likely present for a few thousand years.
But the Klamath River kept flowing, and all that water needed to go somewhere. River flows likely continued across the hardened basalt lava over thousands of years, and the relentless force of flowing water eroded down through the basalt until a harder rock, andesite, was encountered. At that time, the Klamath River reoccupied its former channel.
So salmon were blocked for a long period of time, but once the reef was worn down to the point that salmon could jump it (especially during high flow events), the fish did what their nature compels them to do. They moved upstream. Historical photographs and maps depict the state of the Copco Lake valley before the dam was constructed. The river was clearly a single-thread channel that wound its way across the floodplain of the ancestral lake. The Copco No. 1 Dam was built on that andesite foundation and notched into the basalt canyon walls.
Why are Coho Salmon considered endangered? I can buy them at the grocery store.
You can't buy Klamath River Coho at the grocery store. Klamath River Coho are a population unit of the Southern Oregon/Northern California Coast (SONCC) Coho salmon, and are listed as "threatened" under the Endangered Species Act (ESA) because of low populations numbers. They are genetically different from commercially-harvested Coho salmon. Klamath Coho are adapted to live in the unique habitat and conditions of this region and are best suited to adapt to changes in their environment due to their genetic diversity. Dam removal is an opportunity to rebuild Klamath Coho stocks by improving water quality and returning historic river and tributary habitat currently cut off by the dams.
Commercial harvest of non-threatened, non-Klamath Coho salmon primarily occurs in Alaska where most populations are considered healthy. Small, regulated commercial salmon seasons do occur in Washington, Oregon, and California with regulations set annually to protect listed species and depressed stocks. Currently, no commercial harvest of SONCC Coho salmon is permitted.
Will removing the dams improve water quality?
Yes. The dams trap water that warms seasonally and fosters the growth of blue-green algae that produce toxic microcystin. Routine sampling in reservoir recreation areas has found cell counts up to 4,000 times greater than what the World Health Organization considers a moderate health risk. Consequently, local health officials have posted human and animal contact health-advisory warnings at Copco No. 1 and Iron Gate reservoirs every summer since 2005.
According the Environmental Impact Report (EIR) released by the California State Water Resources Control Board, dam removal is expected to result in:
Short-term and long-term water temperature improvements in the Hydroelectric Reach and the Middle Klamath River to the confluence with the Salmon River.
Short-term and long-term elimination of summer and fall extremes in dissolved oxygen concentrations in the Hydroelectric Reach and the Middle Klamath River immediately downstream of Iron Gate Dam.
Short-term and long-term decreases in summer and fall pH and daily pH fluctuations in the Hydroelectric Reach from Copco No. 1 Reservoir to Iron Gate Dam.
Short-term and long-term reduction of chlorophyll-a and algal toxins for the Hydroelectric Reach, the Middle and Lower Klamath River, and the Klamath River Estuary.
The Oregon Department of Environmental Quality (ODEQ) came to similar conclusions in its Final 401 Water Quality Certification. It found that overall, the presence and operation of J.C. Boyle Dam has a negative influence on water quality. Hydropower diversions reduce instream flows and river function necessary to maintain oxygenation, assimilate nutrients, transport sediment, and regulate water chemistry. ODEQ expects dam removal will restore the river to more natural, free-flowing conditions and improve water quality.
Don't dams help maintain water quality by trapping algae in reservoirs and providing for cold water flows?
No. The massive bloom of toxic blue green algae is shown below in the photo of Iron Gate Reservoir. In this case, a picture is worth a thousand words.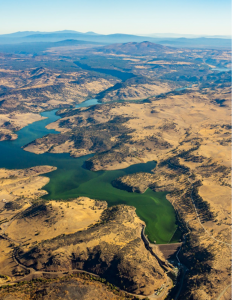 How much fresh water will be lost when the four Klamath dams are removed?
Zero. But we understand that this can be confusing and are happy to explain it. This analogy may be helpful: If you dipped a bucket into the Klamath River and then used the water to wash your car, that would mean there is one less bucket of water in the river. But if you dipped a bucket into the river and then poured the water right back into the river, there would be no net reduction in the amount of water in the river. The water you temporarily stored in a bucket and then put back in the river is not "lost".
The four Klamath hydroelectric dams can be compared to very large buckets. They impound the water to spin hydropower turbines, but the water goes right back into the river. Since neither farms nor cities take water from the four reservoirs, no one is losing water for agriculture or human consumption once the dams are removed. But while the dams do not change the net volume of water in the river, they do substantially degrade water quality, foster a fish disease, and block fish migration. That is why the dams are slated for removal.
How can dam removal help water quality when the water coming in from Upper Klamath Lake is so impaired?
Water quality feeding into the Klamath River from Upper Klamath Lake (UKL) is indeed poor during the late summer and fall, but the hydroelectric project reservoirs make water quality worse. The warm, slow-moving water conditions created by the reservoirs is fertile ground for toxic blue-green algae blooms that degrade river water quality through production of toxic microcystin and reduced dissolved oxygen. The Environmental Impact Report (EIR) acknowledges existing water quality problems stemming from the Upper Klamath Lake but concludes that this underlying problem does not diminish the water quality and fish population benefits from dam removal.
Dam removal is a necessary step towards improving water quality in the river system, but it's not the only step. The next step (really, an ongoing effort) is watershed restoration projects to improve water quality in the Upper Klamath Lake and river basin, which will improve water quality downstream. There are many ways the Klamath could be improved but dam removal is the foundational improvement on which everything else rests.
What will be the effects from sedimentation?
Both the California State Water Resources Control Board (State Water Board) and the Oregon Department of Environmental Quality (ODEQ) have concluded that most of the impounded sediments released will be naturally washed through the system to the ocean within about 24 months following reservoir drawdown and dam removal. Based on research to date, the sediment composition is predominantly dead algae and fine clay. The Project is expected to increase the natural sediment load by less than 50% in the first year, and by nominal amounts if any, thereafter.
KRRC plans to minimize impacts to Coho salmon and other fish by timing reservoir drawdown to avoid major fish runs (while fish are safe at sea or in tributary habitats). So, while property owners along the river will see short-term river impacts that will affect recreation opportunities, the long-term results of dam removal are expected to be very positive for recreation and fishing. All aspects of the Project that affect listed fish species will be regulated under the Endangered Species Act and other laws.
Aren't there millions of cubic yards of toxic sediment currently being safely held behind the dams?
The Oregon Department of Environmental Quality (ODEQ) found that that there are NO significant toxins in those sediments above and beyond natural background levels. ODEQ also concluded that most of the sediments released will be naturally washed through the system to the sea within about 24 months. The sediment composition is predominantly dead algae and fine material. The river is fully capable of this sediment transport.
ODEQ's analysis of the sediment loads expected from removal of the J.C. Boyle dam concludes that impacts to fish will be both short-term and minor, compared to the long-term gains expected from the project. ODEQ supports KRRC's plan to minimize impacts to Coho and other fish by timing reservoir drawdown to avoid major fish runs (keeping fish safe in tributary habitats).
The California State Water Resources Control Board reached similar conclusions when it issued a Clean Water Permit (401) for the KRRC project.
Didn't the river run dry before the dams were put in?
Little is known about low water flows on the Klamath River prior to the construction of Copco 1, outside of anecdotal reports and observations. It is possible that historic Klamath River flows were lower during some dry year summers than what is experienced today, under a highly regulated river system where minimum river flows are specified through adjudication during all months in all water-year types. These minimum flow conditions, specified in the Bureau of Reclamation's Biological Opinion for operations of the Klamath Irrigation Project, will likely not change with dam removal.
Regarding the anecdotal reports of a dry river in decades past, the California State Water Resources Control Board (SWRCB) suspects that peaking operations at Copco 1 & 2 between 1918 and the construction of Iron Gate dam in 1962 to better regulate these peaking flows, may have been the cause of very low flows during this time period.
The dams do not create water and removing them will not take away water. The hydroelectric dams in the Lower Klamath Project do not "store" any substantial quantity of water because water simply passes though the dams to spin hydropower turbines. Removal of the dams would not change the quantity of water flowing down the river. And, again, no farm, ranch or city diverts one drop from the reservoirs so there is no "stored water" to replace. Dam removal does not affect current diversions or water rights.
Modeling analyzed by the SWRCB projects minimal changes in average monthly river flows downstream of Iron Gate after dam removal. The Bureau of Reclamation, as mentioned, controls water flows from Upper Klamath Lake and that, along with tributary flows, snowpack, and runoff from the watershed, determines how much water is in the river, not the lower Klamath Dams.
As is the case right now, Klamath River flows can vary in the future based on how the Bureau of Reclamation operates the Link and Keno dams and with weather and climate. But there is no reason to believe that the Bureau of Reclamation will suddenly decide to dewater the river. Removal of the four dams that are downstream of Upper Klamath Lake can in no way reduce the volume of water in Upper Klamath Lake, nor can the removal of the dams control the volume of water coming into the river from its source.
Here's an easy way to understand it: Imagine you have a hose filling up four buckets of water, all lined up in a row on stairs and tilted to pour from one bucket to another. Then take the buckets away but leave the water on. Is there suddenly no water running down the stairs because the buckets are gone? Of course not! It's the hose that provides the water, not the buckets. And the "hose" is Upper Klamath Lake that sits behind a dam KRRC is not removing.
Will dam removal affect air quality?
The Project includes best management practices to minimize air quality impacts. The Final Environmental Impact Report (EIR) published by the California State Water Resources Board (State Water Board) finds that construction will have a short-term adverse impact on air quality around the construction sites due to NOx emissions. That impact will end upon completion of construction activities, likely by the end of 2024, assuming decommissioning begins in 2023. The Project also includes best management practices to avoid any release of asbestos from the dam facilities and minimize any disturbance of naturally occurring asbestos in the soils. The Project will not interfere with, and instead should enhance, use and enjoyment of properties downstream of Iron Gate Dam, as the State Water Board found that the Project will improve water quality and fishery conditions.
The Recirculated Draft Environmental Impact Report (DEIR) does not include any air quality monitoring as part of the mitigation measures. Regarding asbestos, on p. RE-3-15 of the Recirculated DEIR:
"Naturally occurring asbestos typically occurs in ultramafic rocks with a mineral content of serpentine and amphibole, which are not known to occur in the Project area (USGS 2019). This is confirmed by the California Division of Mines and Geology General Location Guide for Ultramafic Rocks in California – Areas more likely to Contain Naturally Occurring Asbestos (August 2000), as well as several publicly available USGS publications focused on the Cascade Range and Northern California (USGS 2011). While Project construction activities are unlikely to disturb bedrock, these sources suggest that even if bedrock is disturbed, it is unlikely to contain naturally occurring asbestos (KRRC 2019a)."
Therefore, KRRC has not been directed to address air quality impacts beyond what is required by the State Water Board, but will address any air quality issues that FERC may require.
Will there be permanent streambed alterations that will affect the use of fishing boats in the river?
Dam removal is not expected to result in permanent streambed alterations, but it will re-establish natural sediment transport functions below Keno Dam (Oregon). Most of the sediments released are expected to be naturally washed through the system to the ocean within about 24 months. The sediment composition is predominantly dead algae and fine clay, which will largely suspend in the water and not deposit on the riverbed. However, in the first 18 miles below Iron Gate Dam, sand and gravel that will raise the riverbed roughly 6 to 18 inches is expected, at least temporarily. This will not prevent standard recreational and sportfishing boats from operating in the river.
How will KRRC dispose of the earth and concrete from the dams?
In all cases, the majority of the excavated material will be placed on PacifiCorp land. At Iron Gate Dam, much of the earthen material will be placed where the material was first excavated to build the dam. Much of the material at JC Boyle Dam will be used to fill a gigantic scour hole; which is an unnatural, unsightly and even dangerous feature of the JC Boyle part of the project. Some earth will be deposited on the slopes of the JC Boyle reservoir footprint. All the reservoirs will be extensively revegetated. Material that is not suitable for fill will go to various land fill sites where tipping fees will be paid on waste material.
Is the Project funded?
The project is fully funded, with $450 million available from two funding sources. The first source of project funding is PacifiCorp customer surcharges of $200 million. The second source of funding is up to $250 million in Proposition 1 water bond funds (with any excess funds being returned to the State). It is noteworthy that a July 16, 2020 FERC Order found that the available funds were likely sufficient to complete the project and that KRRC has the technical and legal capacity to perform dam removal.
In the unlikely event project costs exceed those funds, several protections exist. KRRC has negotiated a "guaranteed maximum price" with Kiewit, the design/build contractor, and RES, the restoration contractor. KRRC also developed a robust insurance package that reduces the risk of such overruns significantly. And, under the terms of a Memorandum of Agreement, PacifiCorp and the States of California and Oregon will provide $45 million on top of existing contingency funds to address FERC's concern for additional protection against potential cost overruns. Finally, parties have also agreed to cover any costs beyond the expanded contingency fund in the very unlikely event that further funds are required.
How will dam removal effect electricity customers?
Both the California and Oregon Public Utility Commissions (PUCs) have determined that successful implementation of the amended Klamath Hydroelectric Settlement Agreement (KHSA), which includes dam removal as well as cost and liability protections for customers and PacifiCorp, is in the best interest of ratepayers. The KHSA caps the cost of dam removal to ratepayers at $200 million. The costs of relicensing, including the building of fish ladders, is at least double that amount and likely far higher.
The California Public Utility Commission (CPUC) found in 2010, and reaffirmed in 2016, that: "Through the use of the KHSA cost cap, ratepayers are protected from the uncertain costs of relicensing, litigation, and decommissioning that customers may be responsible for sans the KHSA. If the KHSA surcharge is not instituted, the KHSA may be terminated, and ratepayers would then be exposed to an uncertain amount of costs in addressing what to do with PacifiCorp's Klamath assets."
The Oregon Public Utility Commission (OPUC) concluded: "We are persuaded that continued pursuit of the relicensing option would pose significant risks to ratepayers…The KHSA in contrast, offers a more certain path for the Project's future… Due to significant tangible and intangible benefits associated with the KHSA, we conclude it is in the best interest of customers and find the KHSA surcharges to be fair, just and reasonable." OPUC Docket No. No. UE-219, Order No. 10-364 at 12 (Sept. 16th, 2010.)
The PUCs have determined dam removal is a better outcome compared to uncertain costs and risks associated with relicensing the hydroelectric dams. If PacifiCorp were to seek a new license, the company would be required to meet obligations imposed by the Federal Energy Regulatory Commission and other agencies with jurisdiction (Fish and Wildlife, NMFS, etc.) regardless of cost. This includes one-time and ongoing costs associated with relicensing conditions or decommissioning outside the terms of the amended KHSA, as well as for modified or new conditions that agencies have the authority to require in the future. For example, if a new species is listed or there are new requirements under the Endangered Species Act, that could trigger additional requirements. Customers ultimately pay the cost of PacifiCorp's compliance with those conditions and regulations.
So, it's a question of capped, predictable costs with dam removal versus uncapped, unpredictable costs if the dams stay in place. It is better for ratepayers if the dams come out.
Why give up clean, reliable power?
The four dams slated for removal produce less than 2% of PacifiCorp's power portfolio. PacifiCorp's 2017 Integrated Resource Plan (IRP), which maps out resource procurement over the next twenty years, describes a strategy of increased energy efficiency, renewable investment, modest natural gas investment, and major coal retirements (3,600 MW). In this plan, PacifiCorp assumed that Klamath hydroelectric facilities will be decommissioned in 2020. The California State Water Resources Control Board concluded in the Environmental Impact Report (EIR) that dam removal is not expected to significantly increase carbon emissions, either directly (from deconstruction work) or indirectly (from replacement power) and it will not conflict with state policies capping carbon emissions or requiring certain quantities of renewables. Hydropower can often be considered "green energy." But the enormous water quality problems fostered by the four Klamath dams, coupled with the negative impacts to fish, make it hard to consider the four dams in question "environmentally friendly" sources of energy.